Life goes by way too fast. This week, 15 years ago, my son was born. I remember the days leading up to and the actual day as it was yesterday.
An early morning visit to my obstetrician and in within the hour I was admitted in the hospital. A slight spike on my blood pressure and my home bed ridden freedom became hospital under surveillance days. Every other hour on the hour blood was drawn and tests submitted.
Due to my prior complications, classic c-section and pre eclampsia due to the mutation of two genes when I am pregnant,  by now I was looking at only six more weeks to meet my baby, my love. My mind was racing on all directions. How am I going to handle being in here for another six weeks? Going crazy as I did not know how I was going to entertain myself. There so much you tv you can watch, and I am not a tv watcher to start off with. Books and magazines. Cannot read two pages without someone coming in the room. Ideally, it was not the place I wanted to be.
Alone was even less fun. My husband out of the blue had to go to China. Emergency!! The sky is falling. There is always an emergency in China and no begging from me made him stay home. So off he went leaving me in he hands of the doctors and the few friends I had.
In a matter of two days my liver enzymes changed and in within the hour I had to have my baby or him, me or both we may not be here to tell the story.
As I was prepped up, my room got filled with friends that were visiting me. In within minutes my stand-in friend Carol was scrubbing in to be with me. The feeling of not being alone was released. Carol was the kindest and must wonderful person to have to stand in. A true mom. A true friend when I needed one, at the worse time of my life. She made the scariest moment of my life filled with hope and love.
Alex was delivered and because he was born so early, he was rushed out of the room in to the NICU. My mind went blank. Me worse fears rushing thru me at the speed of light. Where are they taking him? Why? What is wrong with him? Can please someone talk to me?
As my two doctors, Carol, Carol's husband that rushed away with my son, and so many nurses running around and checking this and that,  I went into shock.
When you have a c-section you are pretty much mobilized. Straps are place around you so you are stable and secure on the operating table. The only thing I remember is that I started to shake uncontrollably and the doctors had to stop what they were doing. I could not be put fully under either as you never know what will happen. All went blank and spinning out of control. The only thing I remember was Carol.
Her kind love and caress when I went into shock will always stay with me in my heart. Not that many friends will hug you, kiss your forehead, whisper comforting worlds in your ears as you have projectile vomit.
Finally in my hospital room around midnight to found that a party was being taking place. Champagne, chocolate chips cookies and watermelon were being served and eight of my friends were there to celebrate the happy occasion. I remember being in and out, but one thing stuck with me as I looked around, there is nothing more touching than love. Love of friends that become your family.
And just like that my baby grow into a fine young 15 years old man. As all teenagers he is already setting the path to get his driver's permit at Christmas and being behind the wheels of my car by his 16th birthday. For being good in math, he sure miscalculated this one. NO, he will not drive my car… so I say with all the confidence in the world…
Carol is still on our life and we love her dearly as well as everyone that was in the hospital room that night. We still celebrate life, birthdays, anniversaries as often as we can.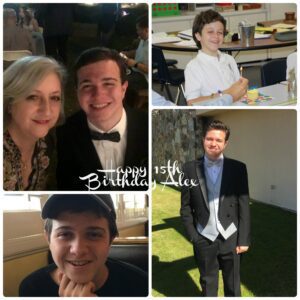 A small collage of our life throughout the years.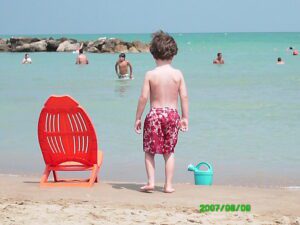 The above picture is one of my favorite. At the beach in Italy. Sun, sand and salty water.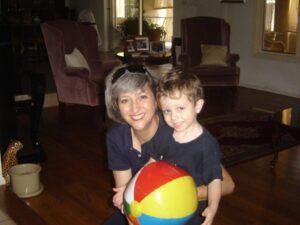 My all time favorite of the two of us.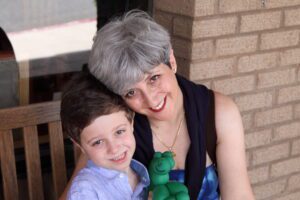 He loved and still loves to cuddle.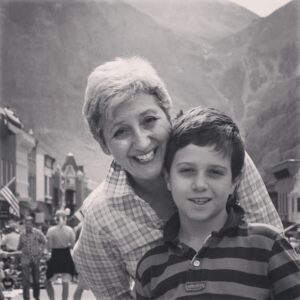 And never shy away from the camera