We are all about feeding our life passion one bite at the time. On our California adventure we enjoyed food out of this world.
At our hotel recommendation we headed toward town.  On our walk we ran into this fantastic and very romantic Italian restaurant, Barrique.
Dinner
Antipasti for all tastes, from salad to prosciutto e burrata via Ahi Tuna tartare. Fresh home-made pasta captured my attention as it had tagliatelle with chocolate served with wild boar ragu`.
The couple next to us had it and it was gone in a flash. We had the Ink Linguine with Dungeons Crab, Red Onion and Tomatoes and it was absolutely delicious. The crab was so good, tasty and meaty. Subtle hint of heat with the perfect sauce.
Duck was on the menu and I could not pass it up. 
Duck breast slightly smoked with caramelized onion and aged balsamic. The presentation was Wow!!!  A glass dome encapsulated the smoke that left a hint on the duck breast. Broccoli rabe with caramelized onions with aged balsamic reduction. Is your palate salivating yet? Mine sure is.
The duck was as tender as it can be and full of flavor. I wished it was ok to lick the plate.
I introduced myself to the Michelin awarded executive Chef Antonio, who was very happy to talk to me and I was able to ask him how does he makes his caramelized onions and balsamic reduction.
Honey, the trick is honey for the onions.  I make caramelized onions often, however, those were just to die for.
My picture it does not give it justice, but candle lights were on all the tables with a very charming and romantics setting therefore I was not going to ruin the mood with a flash.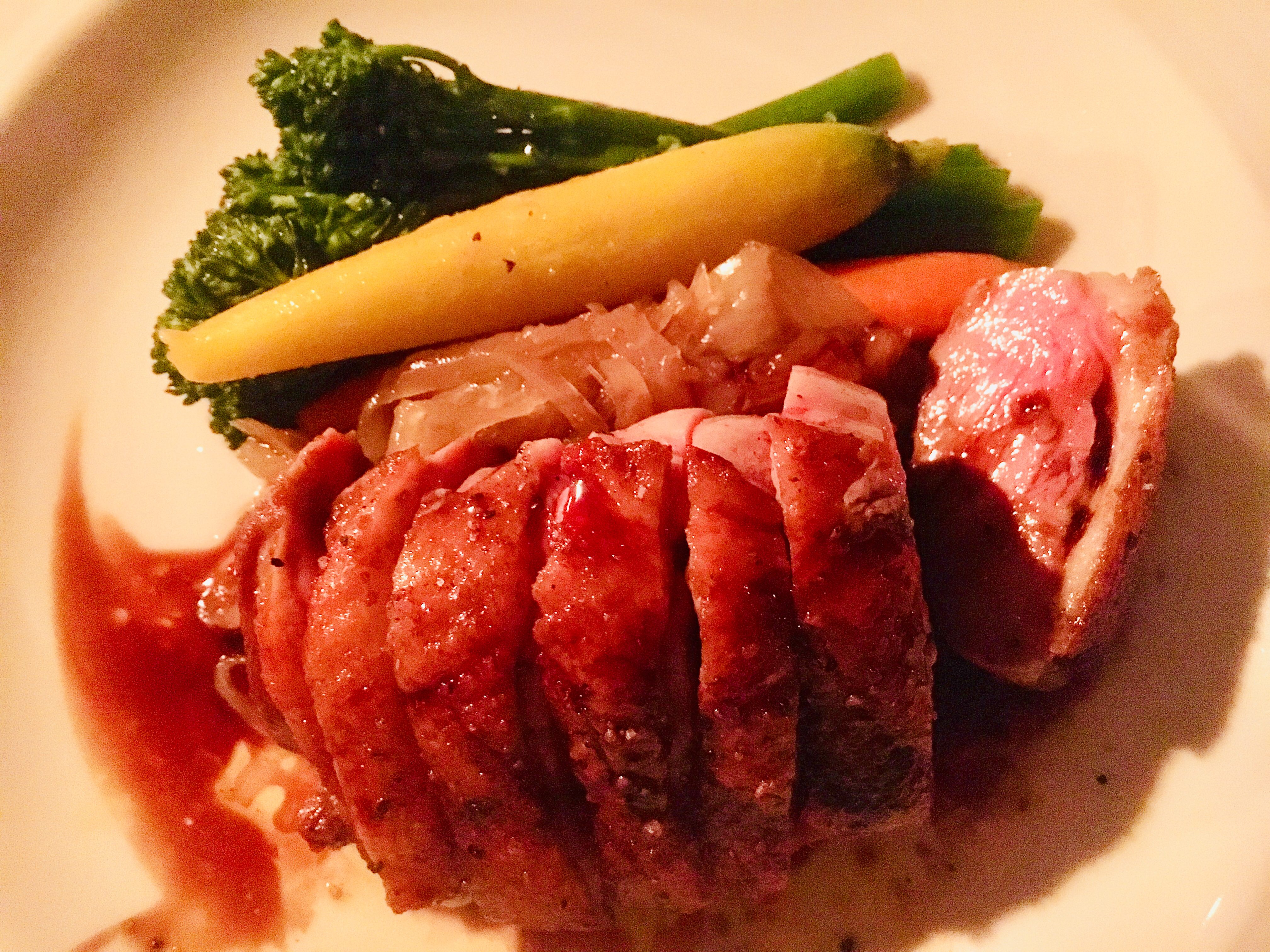 A perfect glass of Valpolicello rounded off the perfect meal. I highly recommend having dinner at Barrique if you are near Venice Beach. A fantastic experience worth the drive.
On our second day of our adventure, we took off and drove up the Pacific Coast Hwy. It does not matter how many times you drive it, each time some hidden beauty comes out for you to marvel at.
Breakfast on the beach was on our minds.
We fund the perfect place at the end of Malibu Pier, Malibu Farm. If you ever are in Malibu, California it is a MUST stop by.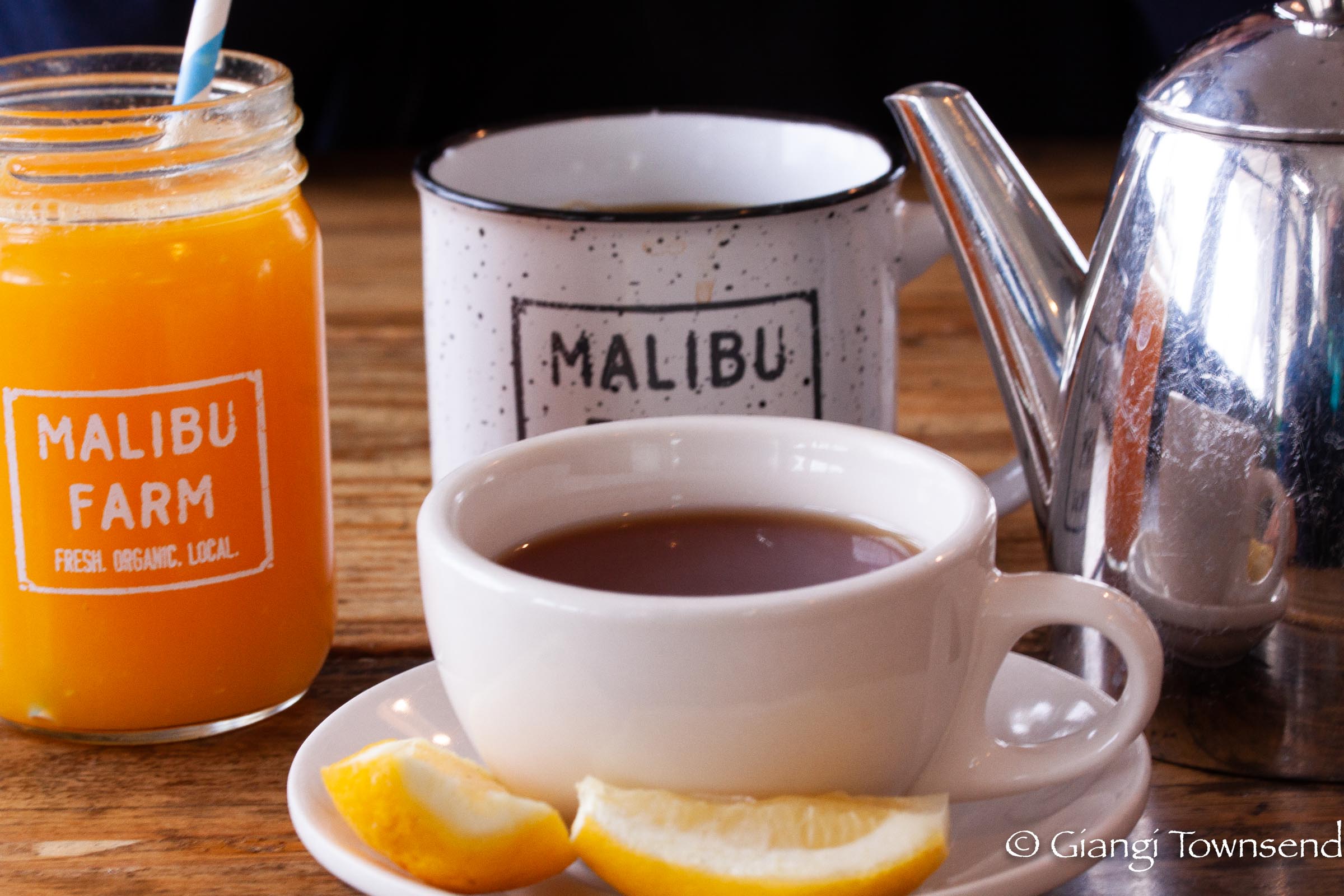 Small place, bright natural light coming thru all the windows. Light decorating, each seat with a sheep skin, pillows and very inviting. Peter, the manager, welcomed us with a bright smile and a great sense of humor.
We love to try new places and of course our eyes are always bigger than our stomachs.
Surfers Rancheros with a hint of goodness with each bite of fried eggs, squash, potatoes, salsa, tortilla, avocado, feta and lots more.
From the first bite it was absolutely incredible. Stacked, full of flavor to perfection.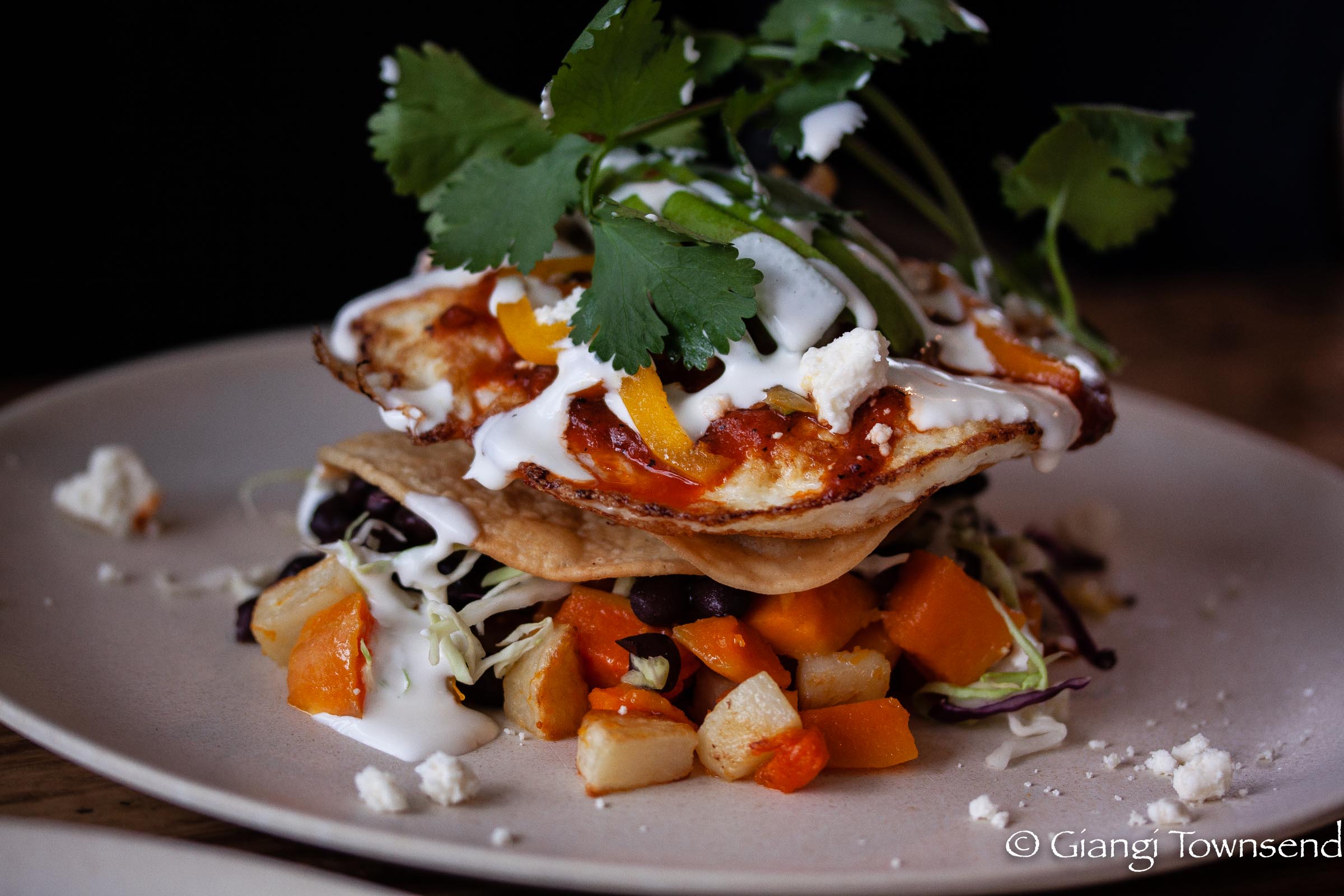 Multi Grain Pancake with lots of bacon bits and maple syrup. Bacon is on the menu, we cannot say no to it. Very much so enjoyed them and I am not a fan of multi grains.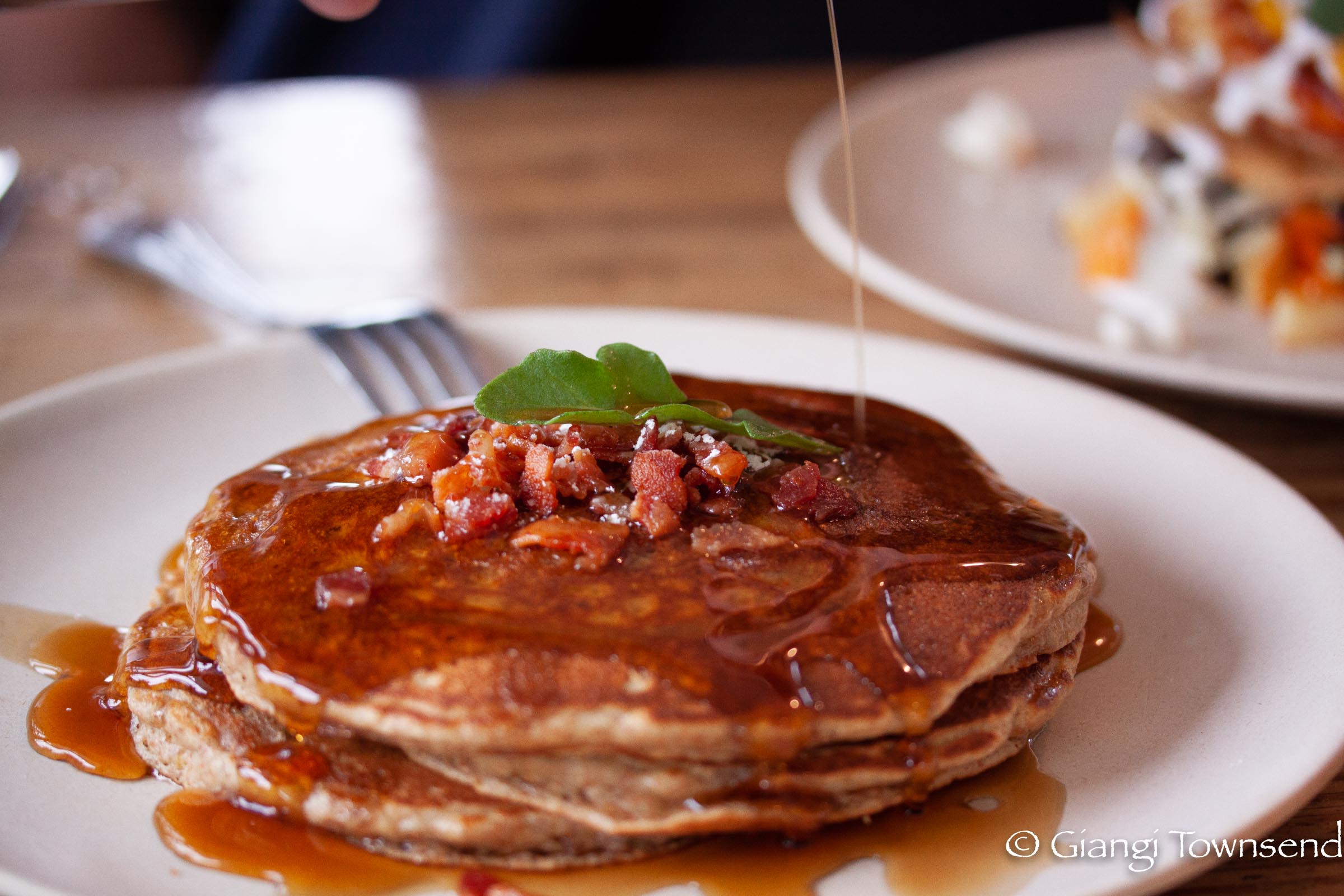 I love arugula, it is an acquired taste for some. I devour it. Consequently, when freshly cut and with a hint of lemon, life is excellent. I had the farm scrambles eggs with roasted vegetables and asked if I could replace the wheat toast with the salad. Best decision ever.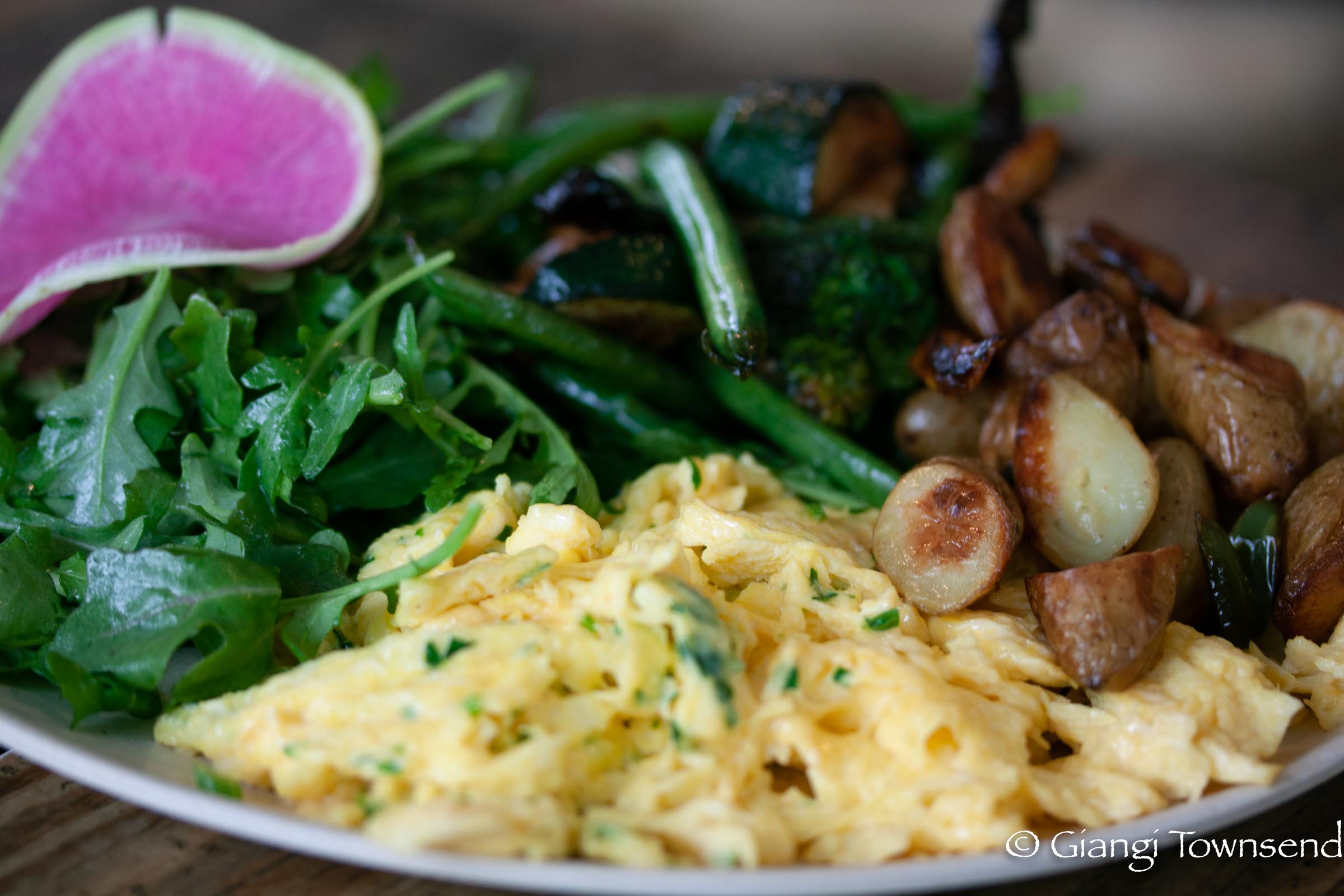 Did I mention potatoes and vegetables? Fingerling potatoes roasted with zucchini, cauliflower, string beans that are out of this world on flavor, carrots and asparagus.
A whole perfect light and full of flavor breakfast to get your day started.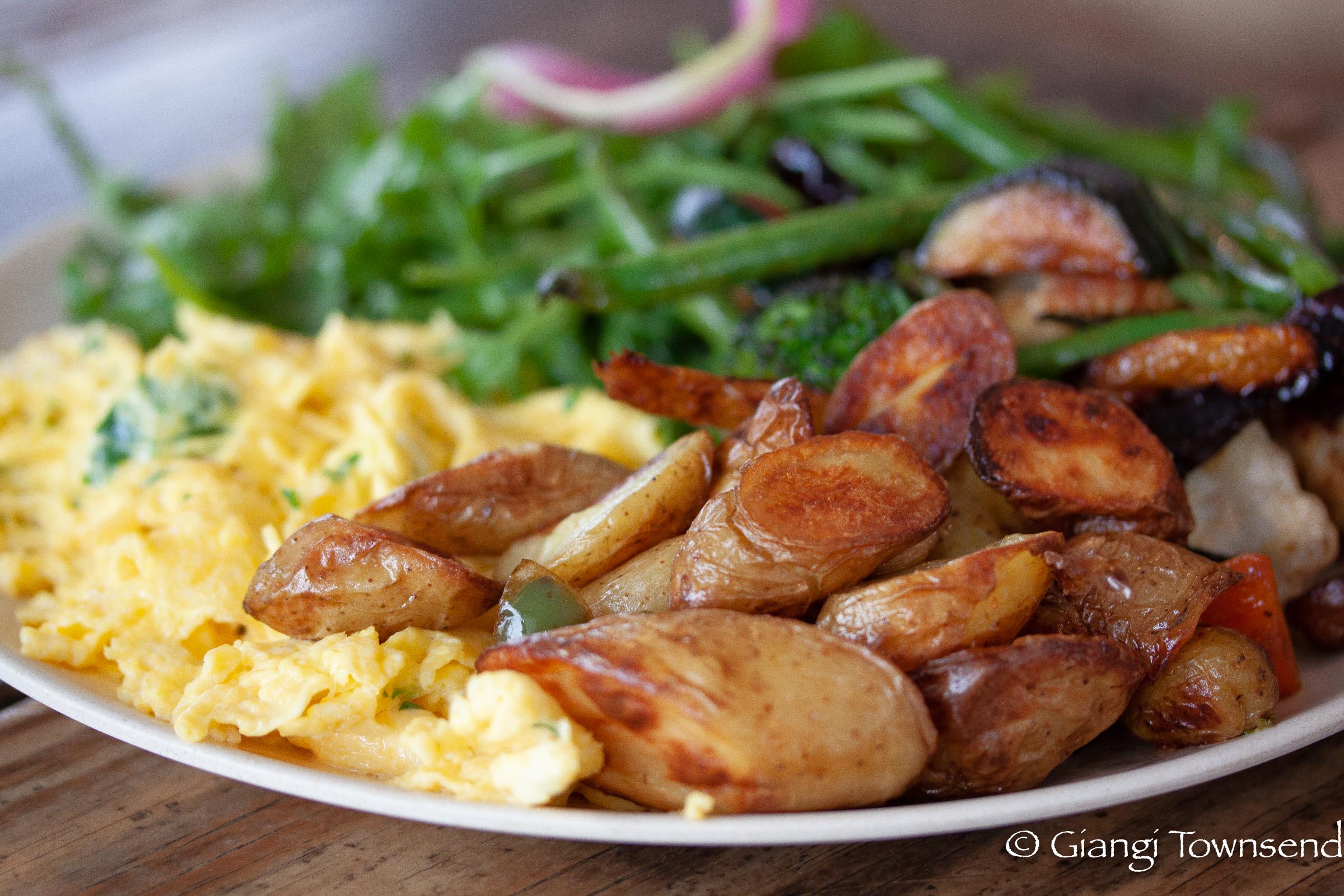 Most of all with all those wonderful meals I have a wonderful challenge ahead of me: duplicate those dishes in my own kitchen to share them with all of you.
Feeding our life passion one bite at the time, that is what is all about for us. Enjoying the small pleasures of life.
xoxo
Giangi