Do and Don't for Beautiful Skin
Spring is finally here and having flawless skin isn't just wishful thinking. It can be achieved! Don't expect a miracle to happen overnight, however as it may require a bit of effort and determination.
The following are proven tips to achieve that facial glow and youthful skin you've always dreamed about – naturally.
I do love skincare and have been using it since a very early age. However, I will never fall prey to botox or any chemical fillers to look younger. I embrace my age and my changes throughout the years. A normal life process.
Working with two of the top cosmetics companies, Chanel is one of them, has introduced me to so many products. Added to my skin needs due to age changes, the products that I am presenting to you today are products that I have used in my daily routine and love.
Observe the golden rule.
Do: Be sure to remove your makeup before going to bed. This will allow your skin to breathe as it rests overnight. Makeup prevents that. It clogs the pores, causing blackheads and blemishes. If you don't have makeup remover, you can use olive oil and cotton for the purpose.
Don't: Forget to exfoliate. Exfoliating your skin once a week will help remove the dead skin layers. This will result in healthier, glowing, and brighter skin. You can use a powdered walnut paste with yogurt to remove dirt and achieve radiant skin.
The sun and your skin
Do: Use sunscreen with at least 15 SPF to block UVB and UVA rays. Prolonged exposure to the sun causes age spots, wrinkles, and a host of other skin problems. Thus, you should protect your skin from the harmful effects of the sun. Choose products labeled "non-acnegenic" or "noncomedogenic" to make sure that the product doesn't block your pores.
Don't: Skip using sunscreen. Always use sunscreen – even if it is cold or cloudy outside. If you're going to the beach or on reflective surfaces like ice or snow, lather some sunscreen (at least 30 SPF) on your skin.
What you eat matters
Do: Take note of everything you eat. Include fresh veggies, fruits, and enough protein and vitamins. A vitamin C diet low in sugar and fats promotes glowing skin. Eating less sugar also helps keep your insulin levels low, and this allows your cells to remain at a healthy balance.
Don't: Eat fermented and spicy food, fried food, citrus fruits, and salt. Go instead for blander foodstuff like oatmeal, applesauce, and rice.
Work out some sweat
Do: Have regular exercise. Yoga, running, and jogging will keep your blood circulation healthy. Exercise also facilitates your body's cleansing process. After working out, you'll notice your face exude a certain glow. If you don't have much time for exercise, a few minutes of brisk walking around the block will do.
Don't: Skip skincare routines before and after working out. Make sure to apply some toner to minimize oil production before you head out. Later, exfoliate and apply some olive oil or shea butter to help moisturize your skin.
Get some beauty rest
Do: Try getting at least 8 hours of sleep nightly. Otherwise, you and your skin will look tired – sagging and with eye bags. To heal and soothe your skin naturally, apply some honey to your face two or three times each week.
Don't: Forget to moisturize and wash your face before sleeping. Alcohol-free and mild cleansers are ideal for dry skin. Be generous in applying to moisturize while avoiding hot water because it can excessively dry your skin.
These are only a few healthy habits that can help you achieve healthy, glowing, and youthful skin.
Happy Spring!
xoxo
Giangi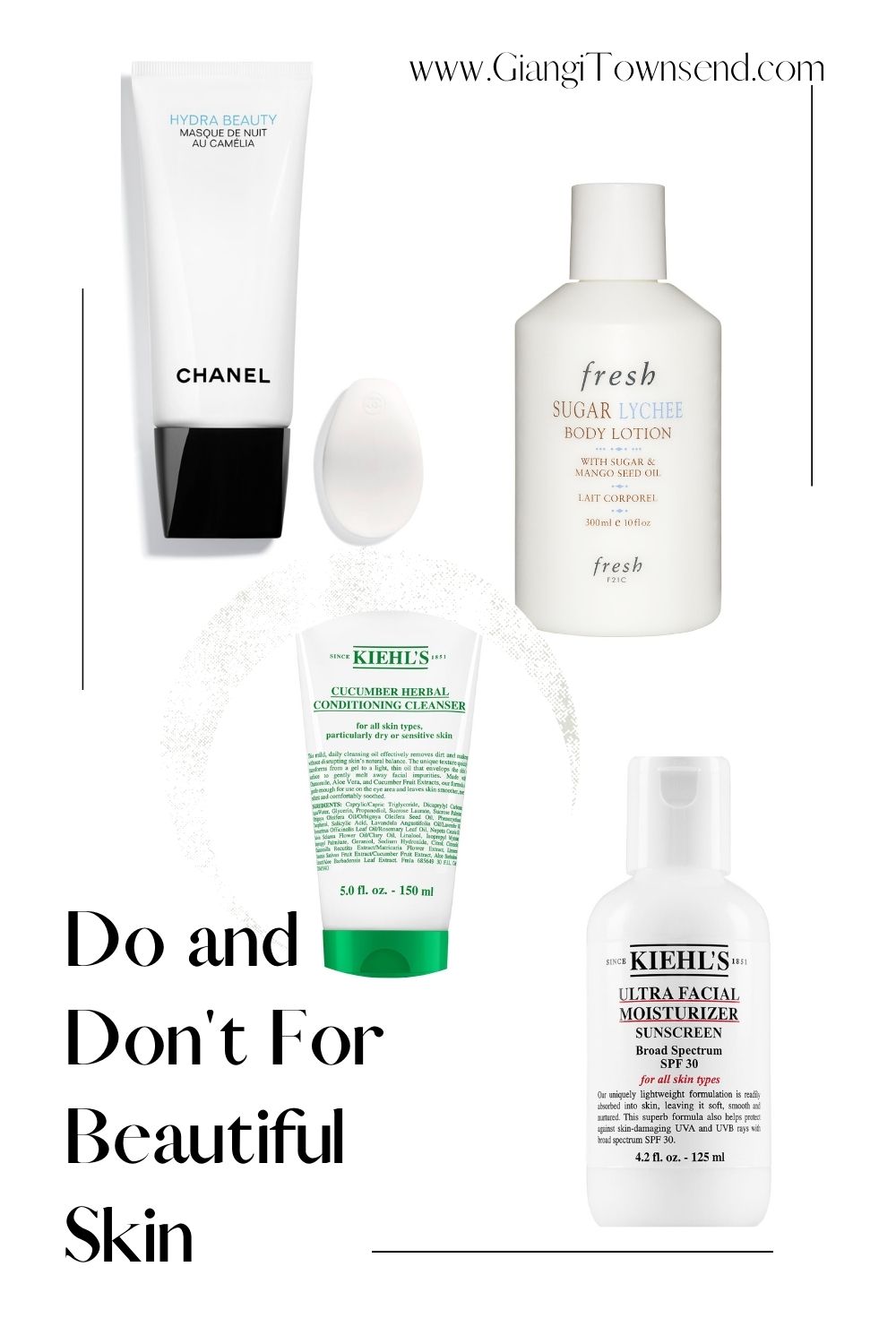 Disclosure:
I only recommend products that I have and am using and love. With all affiliate link purchases, I will receive a small compensation from the company. This compensation is FREE to you and paid directly to me from the vendors.