Easter is here! How about some Italian Ricotta Lemon cake. I made this recipe for my cooking blog, Giangi's Kitchen, and decided that I should share it here as well for everyone to enjoy.
Easter is just around the corner this Ricotta Lemon Cake is just a wonderful Italian dessert to prepare for your friends and family. Unbeatable flavor and texture thank you to the combination of ricotta, lemon, and golden raisins soaked in rum.
Sweet and slightly dense in texture. The perfect afternoon snack with a cup of tea, or the perfect at the end of a great dinner.
This wonderful Ricotta Lemon Cake can keep well at room temperature and in the fridge. The ricotta keeps it moist and rich tasting.
What is ricotta?
It is a by-product made from whey, the watery part of cow milk. As well as from sheep, goat or Italian water buffalo. Soft and delicious it has many uses in your culinary journey. Used as a filling for many pasta preparations as well cakes and pastries. More of a Southern Italy specialty when it comes to desserts.
TIPS
Do let the golden raisins marinate on dark rum. I enjoy and use for all my cooking and baking Myers's Rum Original dark, not all retail stores may have it. I highly recommended it. Rich in flavor it gives the raisins a subtle flavor and does not interfere with the taste by way of tasting the alcohol.
If you cannot found the candied pineapple rings, you can use lemon or mango.
Gently fold the egg whites.
Not all ovens are the same and I have a classic ancient old oven. If you have a newer model, therefore follow the guidelines of baking the Ricotta Lemon Cake to a golden brown and clean knife when coming out of the center of the pan.
Completely cool before removing the ring of the springform cake pan. I always place any desserts that need to cool off on a wire rack. Cooling off faster and more even.
You will love how moist this cake is and all the flavors will blend together.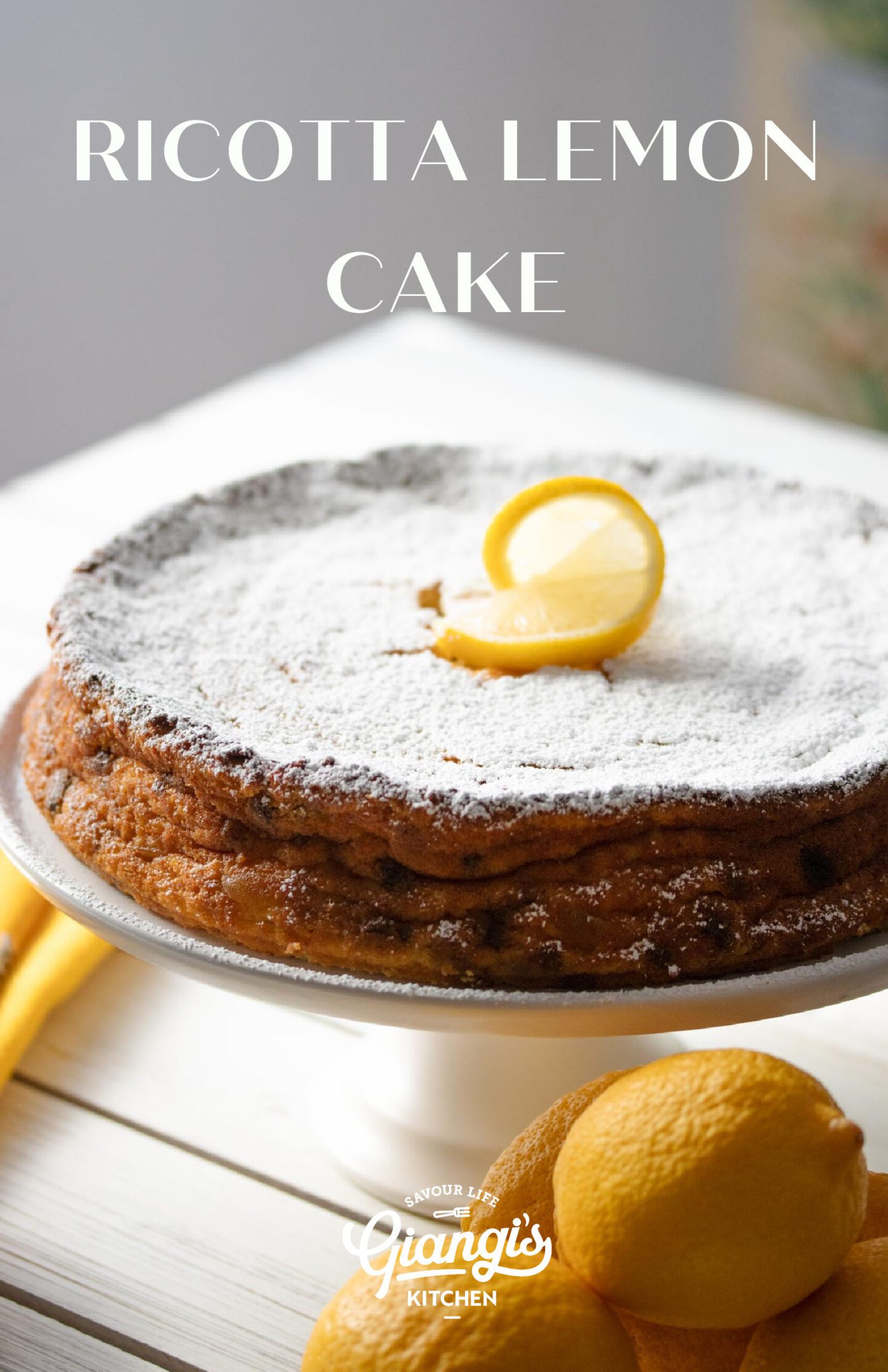 Ingredients
2 pounds whole milk ricotta
¾ cup granulated sugar
6 ounces candied pineapple rings
grated zest of 2 lemons
1 tablespoon lemon juice
1 cup golden raisins, soaked in dark rum for 20 minutes, drained, patted dry, and diced
1 tablespoon dark rum from the soaked raisins
6 large egg yolks, lightly beaten
¾ cup unbleaded all-purpose flour
4 large egg whites beaten with ¼ cup granulated sugar until still peaks form
confectioner's sugar for garnish
Instructions
Preheat oven to 350F
Butter and flour a 10-inch springform cake pan, shaking off any excess.
Put the ricotta and sugar in a large bowl of a stand mixer (or use an electric hand mixer) and mix well until the sugar is all incorporated and the ricotta is smooth.
In another bowl combine the candied pineapple, lemon zest, lemon juice, 1 tablespoon dark rum, and the raisins with the egg yolks and mix well with a large baking wooden spoon. Add the ricotta and mix thoroughly. Fold in the flour and mix until smooth.
Fold in the egg whites thoroughly and pour the mixture into the buttered pan.
Bake until the top is golden brown and a thin knife inserted in the center of the cake comes out clean, 40 to 45 minutes.
Cool at room temperature, remove from the pan, sprinkle with confectioner's sugar, and serve.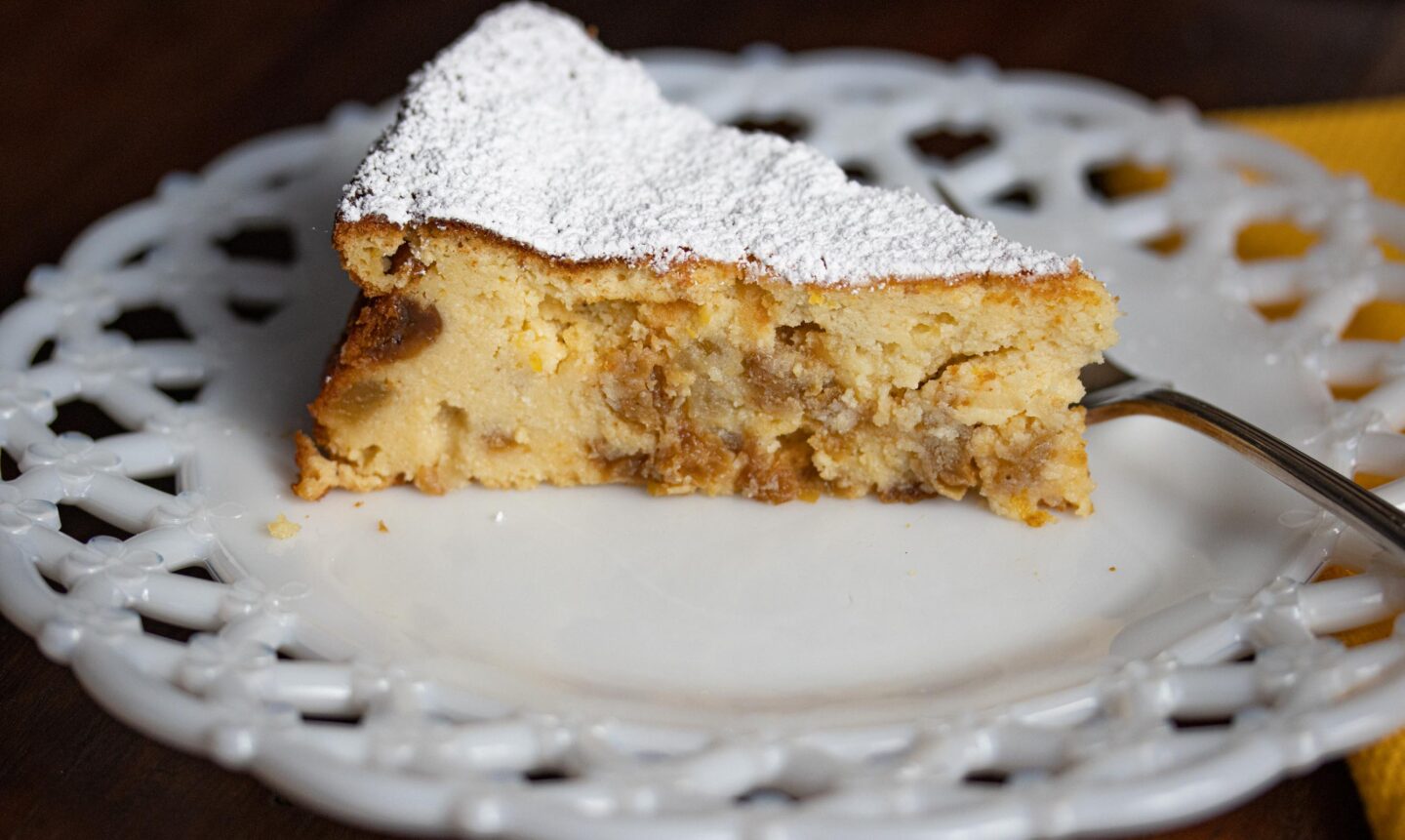 Enjoy this wonderful Italian Ricotta Lemon Cake. And if you are looking for inspiration for your nightly dinners do visit Giangi's Kitchen
Bon Appetit!
Giangi
Please read my privacy policy for more info. I only recommend the products that I actually love and use. This site contains affiliate links to products. We may receive a commission for purchases made through these links.