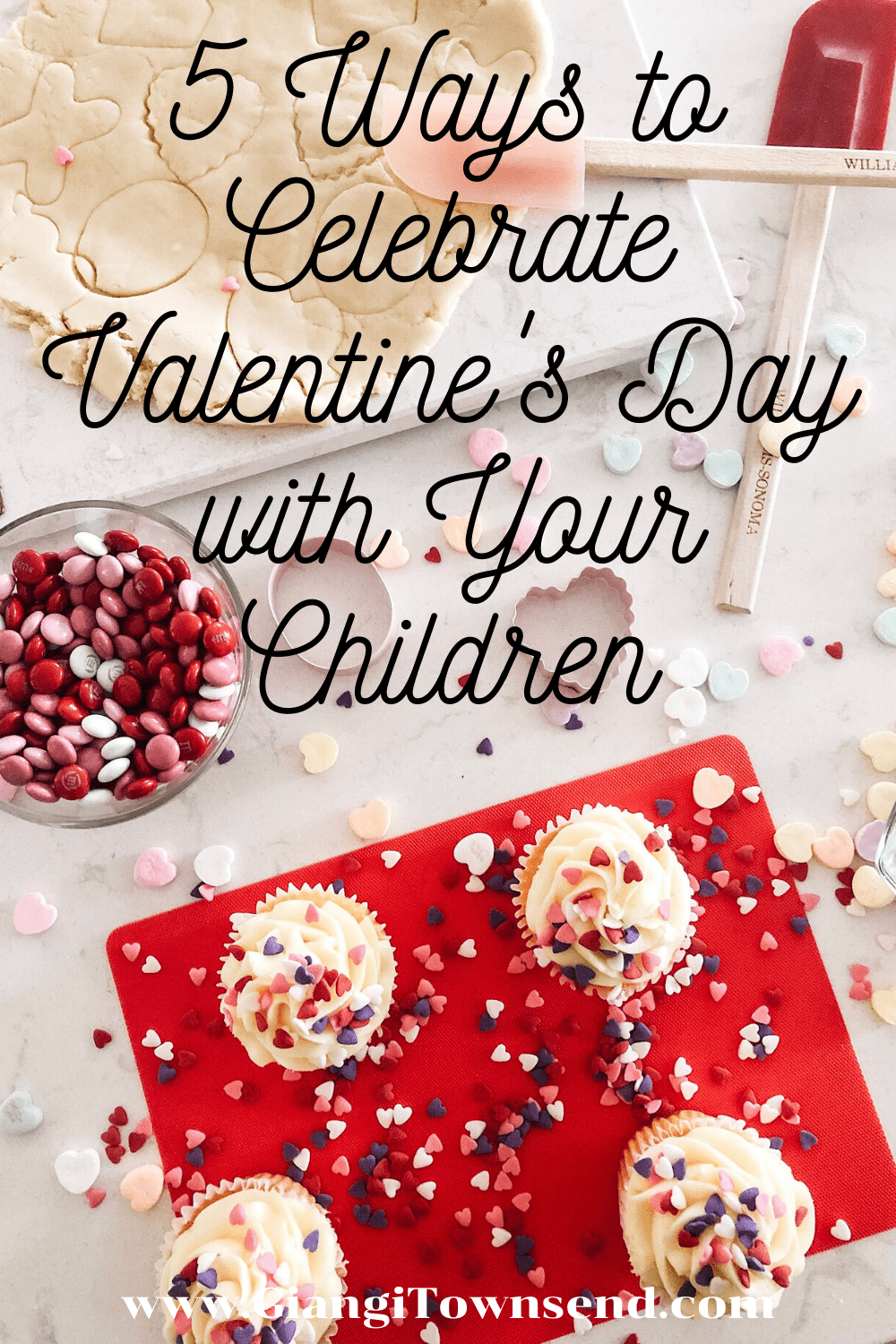 5 ways to celebrate Valentine's day with your children. By now, you must have noticed that I love Valentine's Day. And as a parent, it gets to be a lot more fun. All expectations set aside; we get to have fun with our little one. Creating a fun, magical day that they will always remember.  Instead of succumbing to the Hallmark moment,  celebrate with love, crayons, and sugary treats.
I remember with so much love and fondness when my son was a baby, and we spent hours creating cards for all his classmates — lots of laughter and closeness.
Here are 5 ways to celebrate Valentine's Day with your children.
Craft Away.
Get crafty and bring out anything and everything that will allow your child imagination to go wild. Let them create something special to share with all their friends. The web has so much inspiration if you need a starting point.
Set The Mood.
Everything heart, pink and red. Set the mood by adding Valentine's touches to your house. The little one eyes get wide when they see their bathroom decorates — the kitchen placements or tablecloths with hearts. And let's not forget heart-shaped plates and napkins. Some streamers and confetti can make for a very festive breakfast. Heart shapes cut out all over the kitchen and their playroom. A cute red and pink flower bouquet can top it all.
Heart-Shaped Food
Nothing makes children smile than food with shapes. Somehow everything is enjoyed more too. Get a heart-shaped cutter and start having fun turning everything into Valentine's Day treat. Toast, pancakes, Valentine's Day meatballs, yes, it can be done. Strawberries are the easiest one as you can cut the stem out by shaping it into a sharp v-shape.
However,  baking takes center stage. Here, you can go wild, and your options are endless. Cookies, cakes, brownies, ice cream. Red or pink frosting for cute little cupcakes. Sprinkles all over the sugar cookies. Angel air cake cut into a heart shape with a dollop of pink whipped heavy cream (a couple of drops of food coloring will do the trick) and lots of fun pink-red sprinkles over it.
Love Songs
A bit mushy, I know. However, some children friendly Valentine's songs are so much fun. Create a playlist early on and add some of your favorites to the child mix. "You are my sunshine" by Elizabeth Mitchell, "A bushel and a Peck" Vivi Melody & Family, "A Kiss and a Hug" Jeanne Nelson & Hector Marin and of course you cannot forget "My funny Valentine" Ella Fitgerald, "What a Wonderful World" Louis Armstrong. Let love guide you.
Bedtime Stories
Let's continue the day celebration into bedtime reading.  "Happy Valentine's Day  Curious George", "Hugs & Kisses for the Grouchy Ladybug" by Eric Carle, "Love is" by Diane Adams.
Valentine's Day is a great holiday to celebrate family and love. Enjoy those 5 ways and add some of your own to the list.
xoxo
Giangi