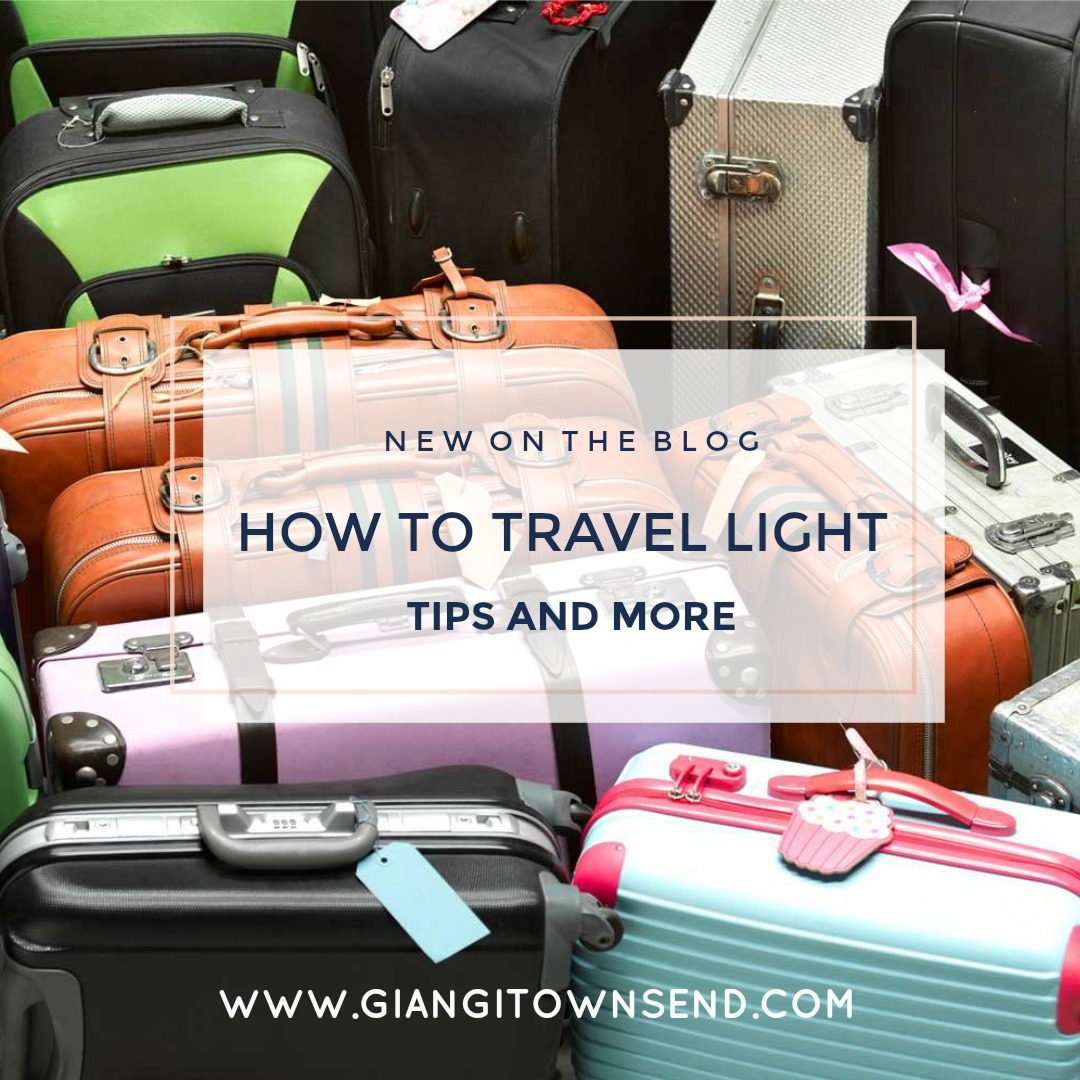 How To Travel Light ~ Tips and more
Ready to go on that well-deserved vacation? I am sure, by now you have packed and unpacked mentally your luggage ten times.
As we have traveled extensively, the longest trip around the world for a duration of eight straight weeks, we love to travel light. Yes, even me. After so many years we have packing down to a science. Don't miss understand me, it did not come easily, but then you do one up or down the stairs one time too many and you quickly learn.
No matter where you are going or you are staying, with full amenities concierge being one of them, there will be a point within the trip that you will have to carry your own luggage.
What I have for you is a quick and easy way to trim down on your packing weight, which can be also be costly to you with some airlines.
Save you luggage space and I promise you will not have to wear the same shorts or pants for the entirety of your trip.
This process of reducing what you bring in a trip can be hard to some. Breaking an habit is hard, so take baby steps rather than all in one go.
Those changes were made over the years. I used to be the clothes luggage, the shoe luggage and to top it all, the miscellaneous items on my carry on. I traveled with two, not one, two bottles of fragrance…. shall I say more.
Start with a small suitcase.
The trick of travel light is the suitcase. Make sure it is light, easy to carry, maneuver, and handle. Why? You will have to take, drag it, pull it, push it. By starting small it will help you in the long run. Make sure all the wheels are working properly too. The price of replacing a piece of luggage during your vacation can put a small dent in your budget. Been there, speaking from experience.
Build your wardrobe and eliminate.
I start by placing all the clothes that I want to bring on the bed. Lay the whole ensemble complete with shoes grouped on the bed. Once all that is done I start to eliminate. How many tops can I assemble with just one pair of pants / short/ skirt?
What I usually do is: 2 pants + 5 tops = 10 ensemble or 10 days worth of clothing. One dress and one skirt.
Bring like colors so you can get the most of your variation and you do not feel you wear the same thing too many days in the row. I like to pack black with a shot of color. Simple and so easy to dress up or down.
With that in mind, do the same with shoes. No more than 3 pairs and that includes the one you are wearing. Each shoe should be placed in a cloth bag if you can, or a grocery bag. You do not want the sole of your shoes to dirty your clothes.
Bring a sweater that is color neutral and goes with everything you bring. And a bright scarf to have for that not too warm evening and to add a touch of color.
Always carry a light jacket or parka. They fold easily, most are windbreakers and keep you dry in the rain.
Pj's, socks and intimates should be the same. Remember every where you go you can always wash your clothes, hang them to dry, or go to a laundry mat if you travel with children.
I like to place each of the intimate items inside see thru zipped pouches. Easy to grab and not easy to lose.
Do not carry more jewelry that you need or bring one or two pieces of customs jewelry.
A small clutch as an evening purse or a small cross body bag, but very small.
If you ask yourself: "Would I wear it?" then do not bring it, you will not wear it.
Skincare, make up bag, personal hygiene and hair.
Your skin care regimen can be either purchased on small travel sizes or moved into small size bottles.
Take a good look at what makes up you use the most and bring it and nothing else. Two to three different shades of lipstick or gloss and a small bottle of fragrance. Better yet samples of your favorite fragrance.
Do not cumbersome your space with shampoos, body wash, or conditioners. All hotels have it and will be more than happy to give you more if you need it. Bring the bare minimum for body lotion and any special cream that you need to have. Remember, travel light, you can always buy if need something.
There is no need to bring a blow-drier. Most hotels have blow driers and if you stay with family, definitely they do. If traveling abroad the current is different, therefore do not concern yourself with the extra item.
Buy your personal pads and tampons at home and bring along. Tampax™ brand is all over the world, but if you are in a remote area or need them on a Sunday and everything is closed, you are in trouble.
Start packing and how to put it all in.
Shoes on the bottom. If you have the chance to, grab plastic pouches with a close zip-top and place all your shirts in them. Remove the air and seal. Crazy as this may sound, nothing will wrinkle and you can get so much more in your luggage. Roll any items that will not wrinkle and place them on the corners. Try to fill as many holes as you can. Any cream or items that can with the pressure of the altitude expand and leak place them inside plastic bags.
Clean your purse
Remove all not needed customer value cards, credit cards, receipts, or business cards. If you can, transfer it to a small wallet. Thus, anything that is not needed should be removed. Just remember you want to travel light.
Furthermore, some airlines will consider your personal purse as a piece of carry-on luggage, therefore you need it small that you can fit it inside another bag.
Camera bag and Computer bag
As a person who loves to take pictures, this one is the hardest one for me. Choose a lens that can do it all. Remember to buy extra compact flash drives. Bring the attachments to download your pictures every day and extra batteries. I always found it offensive to pay three times more for batteries when I am away from home. Remove any items that are not needed from your camera bag and computer bag, extra weight.
Important miscellaneous that I always do
Make 2 copies of all your front and back of your credit cards. One to take with you, one to leave at home with a trusted family member or friend. The same goes for your passport. Any loss or theft can be reported immediately with all the phone numbers on the back of your card. Same with your passport and faster issuance from the Embassy or Consulate.
Call your credit card company and let them know you will be traveling and give them your verbal itinerary. During the summer vacation, credit card theft is high. By sharing the information you will not found yourself in an embarrassing situation of a declined charge. In some instances it can take up to three days to have the fraud alert cleared.
I hope some of my points above can help you streamline your travel weight.
Have fun, relax and enjoy your time away.
xoxo
Giangi